BATTERY / MODEL / Flight-Time Calculations
A few weeks ago I bought a second-hand EDF Jet… a Freewing F-86, the 12-blade 80mm EDF "Performance" version. … and since then, I have been pondering the relationship of battery to flight endurance.
One of our long-time members, JD Devereaux, spent quite a while helping me to understand the formulas I am about to describe to you, here…
Here's how I understand what JD was trying to show me…
To calculate a potential Flight-Time, you factor-in the type of model you have… the weight of the model… and the battery you intend to use.
Here we go!
WATTS required to fly your model…
Weight of your airplane  x  the Watt Factor = Watts Required for your Model.
The Watt Factor is a variable that you decide upon … ranges from 90 to 130…
90 for a simple, light weight Floater model (Seniorita) …
110 for the average aerobatic sport plane…
130 for a high-performance model like an EDF Jet
You can choose any number between 90 to 130 for your model.
So a Two Pound Sport Model x 110 Watt Factor = 220 watts required to fly that model.
———
The Battery Potential…
Basic formula here is Volts x Amps = Watts
Think about your battery… let's say it's a 3S 3300mAh LiPo (3300mAh = 3.3 amps)
a 3S = 11.1 volts … so … 11.1 x 3.3 Amps =  36.63 Watts of Battery Potential
——–
So…  how many minutes of flight-time do you expect to get from your battery on that 2-pound airplane?
220 Watts required by your model… divided by your Battery Potential 36.63 = a FACTOR of 6.001
(That "Factor" is the C-Rating required at Max Power)… but you don't need to think about that…
60 minutes in an hour divided by 6.001 = 9.99 minutes of expected flight time…. for that model using that battery.
---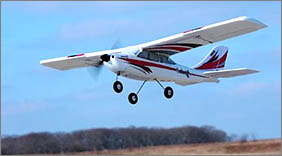 On the Apprentice, I get 12 minutes using that 3S 3300mAh LiPo battery… I don't know the exact weight of the Apprentice… and I don't know if I should have used that 110 model factor… maybe it IS a Floater and I should have used a factor of only 90.
2 pounds x Factor 90 = 180 … 180/36.63 battery potential = 4.91 … 60 min / 4.91 = 12.21 minutes flight time.
"Perfect!" … and I DO try to land in 12-minutes so as to leave the battery at about 30% power remaining. … so, in the real world, really, I COULD fly 30% longer (a total of 15.5 minutes?) and so kill that battery, completely…
—
Let's do it, again…
For my F-86 EDF Jet…
Weight = 8-pounds at a Watt Factor of 130 = 1040 Watts Required for that model.
My Battery is a  6S 4500Mah … 6s = 22.2 V x 4.5Amps = 99.9 Watts Battery Potential
1040 / 99.9 = 10.41  … 60 / 10.41 = 5.76 minutes of Flight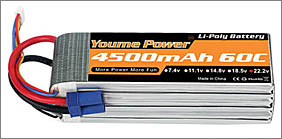 ——–
But "in the Real World"… I get only about THREE minutes on my Jet…
… JD says "Well… these numbers are theoretical requirements, they are only approximate"…
… so… it is STILL all VooDoo!
——–
Instead of 130 FACTOR for a Jet, Let's try using 180 …
180 x 8 pounds = 1440 Watts required for that model.
1440/ 99.9 battery Potential = 14.41 C-Factor … 60 minutes / 14.41 =  4.16 Minutes … STILL longer than MY flight time…
——–
Try again… this time using 210 as my Model Factor… (I know… JD says Range is from 90 to 130… but I need a BIGGER number to make the formula reflect a real world 3 minutes flight time…)
Model Aircraft Factor of 210 x 8 pounds = 1680 Watts Required
1680 / 99.9 Battery Potential = 16.82 C Factor … 60 min / 16.82 = 3.57 minutes flight time… STILL 33% More than I actually get when I fly that model.
Of Course, I AM trying to land the jet before the battery reaches "ZERO" … so I COULD actually fly for another fat 30-seconds to kill that battery, completely… maybe more… !
——–
So… Yessss??
My conclusion: … A.) The formulas are REALLY only general (TOO Theoretical)… or B.) my Jet is drawing WAY too much power from the battery… or C.) I need to use a model factor greater than 130 in my calculations…
… or, maybe… all three!
———
I can see that JD's formulas do not recognize the propeller (or fan unit), the Electric Motor or the ESC that you are using. …
He says the numbers are "theoretical" … So, in a perfect world, my battery set-up in that EDF jet would give me 5.75 minutes of flight-time. … if… THAT is the exact weight of the model, the exact strength of my perfect battery, a perfect motor and propeller, and a perfect air-frame…a beautiful, smooth, perfect model….
… but in the real world I only get THREE minutes (about HALF of the calculated amount).   So I gotta figure my model is not "theoretically" smooth, clean, and perfect. … I gotta figure my battery is not 100% efficient. … I gotta figure my motor, ESC, and fan-unit are NOT perfect (NOT delivering 100% efficiency)… and with all of those "nots", my number is almost 50% off of the theoretical perfection calculation.
… and yet for that Apprentice calculation, the numbers were exactly correct… maybe a little TOO good. … Maybe the Apprentice IS the perfect airplane, per this theory.
———
ALL OF THAT being said (Sorry to make this be so LONG!) … FOR my EDF Jet, I gotta use this formula to determine my Flight time and then, knowing that I am trying to land before I kill the battery, and knowing that my model is NOT perfect, I gotta cut the calculated result IN HALF to get a number I can trust.
VooDoo… Yes?