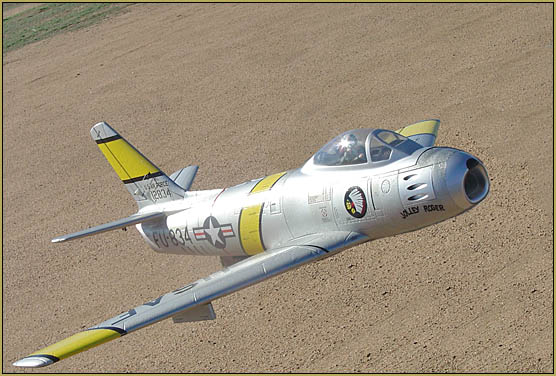 Clear-Gloss Painted my Foam EDF F-86 Jet to get reduced drag in flight!
This Freewing 80mm F-86 "Performance" EDF jet is my first experience with an EDF model. I am the second owner of this ship… and I find that it is a solid performer… stable and predictable in flight. I am flying it with 6S 4500Mah 60C batteries and… giving it all of that power… she sounds great with a jet-like Whooooooosh!… it makes a strong take-off, can fly large loops… but doesn't have "thrilling" speed! … I have no solution to the speed issue. I mean, it does fly well and look cool! … just a nice flying airplane.
Last November I attended the "Aviation Nation" airshow at Nellis AFB, near Las Vegas. They flew a brightly polished, bare-metal/bright-metal F-86 jet with the same yellow banding that I see on my model. Bare-metal and shiny… so I figured it would be prototypical for me to paint MY model with a clear gloss paint, too.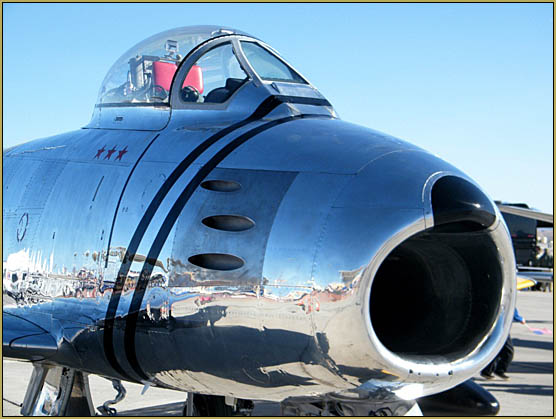 New gloss-finish paint…
… makes the model… slipperier??
Now, I knew that my painted model would in no way look like the flashy-chrome beauty I had seen at the show. But my ulterior motive was to lose the matte-finish/raw-painted foam of my model and so gain a hard-smooth surface… maybe it would be more "slippery" at 50 mph than the original matte foam. I figured the softness and gentle pitting of the original surface would be filled-in with a crispy layer of gloss paint.
NOW… I needed paint!
I stopped-in at WalMart, hoping to find cheap clear acrylic spray paint… but… nope. So I went across the street to the True-Value Hardware store… and, again didn't see what I was looking for… so, despite being "a real man", I asked for help. I described my F-86 to this infidel as "I have a craft project that is made of painted styrofoam, has some bare areas, some painted hard plastics and some decals on it."… He pointed at the Rust-Oleum aisle and I said that in my experience, Rust-Oleum might be too aggressive for my delicate project. … We approached the Krylon aisle and discovered that they were out of stock on Krylon Clear Gloss… My guide went back to the Rust-Oleums and selected for me a can of Rust-Oleum "Painter's Touch" Gloss Clear, saying "I believe this will work well for your project." … Well… it was my only choice… so I took it!
The TEST of the paint…
When I got home, I flipped the model onto its back and chose an area near one of the wing pylons that included a bit of a decal… and I painted-on a light coat… saw no adverse effects… and so gave it a second-shot to yield one generous coat of paint. I saw no issues… I waited for an hour… the paint was dry to the touch and still looked just fine. … So… I went for it! I painted the entire top surface of the model with a generous coat of paint. … I saw no issues and decided I could stop holding my breath. After an hour I flipped the model over and painted the servo/hinges side of the ship with a lighter coat of paint. … The very next morning… it looked great! No issues with sticking servos or links.
This F-86 "foamie" gleams in the morning sun!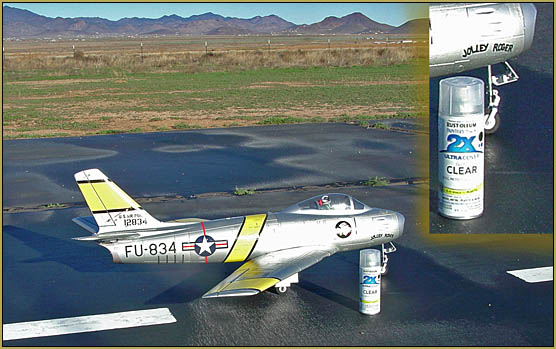 It looks nice… Flies better??
Flies better… ? … well… probably not. I mean, maybe! … I couldn't really tell any difference. But I DO like the look of the F-86 with the gloss.
This model is VERY Photogenic… romantic!