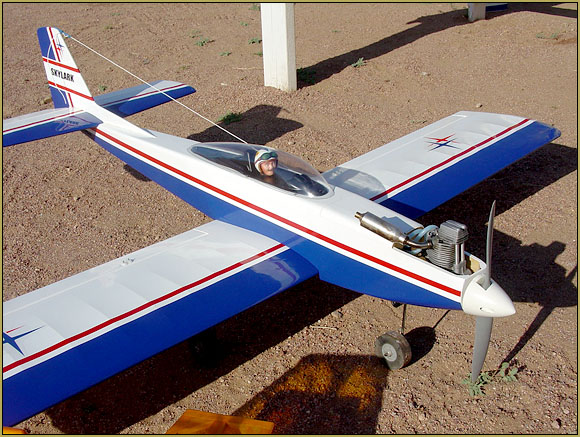 My Goldberg Skylark…
A love affair ends in tragedy!
I purchased my Goldberg Models Skylark ARF model from Tower Hobbies back in early 2006. As I remember, it was $149.95. It was a pretty ARF with no flaws… nice covering with no loose edges or wrinkles. It went together easily. I used the cheap-looking hardware that came with the kit… simple thin sheet-metal threaded clevises that twisted onto the threaded control rods… nylon control horns and CA hinges.
This was the pilot's FOURTH Assignment!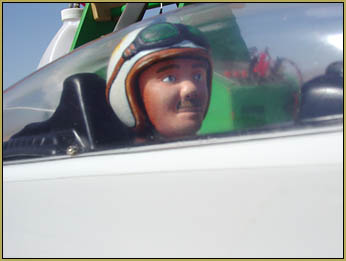 The Goldberg Skylark came with no pilot figure. I used the head of a pilot that my son had painted for me back in 2000. At the time, he had been assigned to a World Models low-wing trainer. THAT model flew very well… but, even so, after about three years of flying it, one day I stalled on takeoff and destroyed the plane; smashing the wing and fuselage. The pilot survived!
In 2005, after I moved here, to Kingman, I bought a China Models P-40 Warhawk model. It was a beautiful model with fiberglass fuselage and built-up sheeted balsa wings… and a wonderful pre-printed covering material that made the model look "real".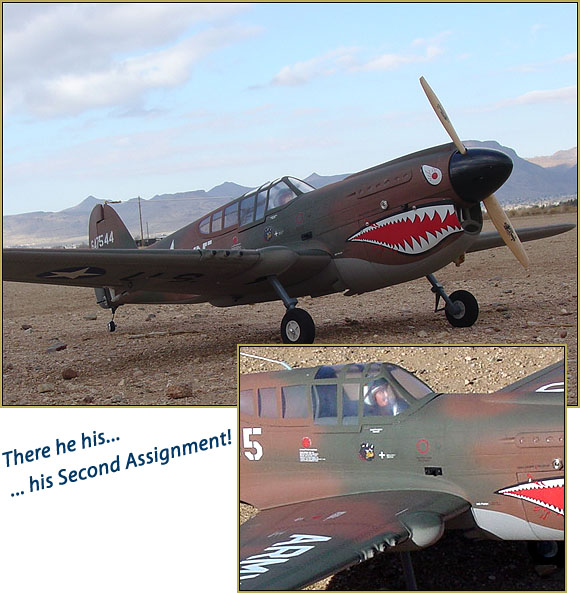 I powered that model, rated as a .40-sized model, with a 61 Magnum 4-stroke… It took off with good speed… but crashed on its maiden flight… after several passes, overhead, I slowed for landing and lost control in a stall as I banked on the downwind leg… it simply fell out of the sky. The wing was split; the fuselage shattered.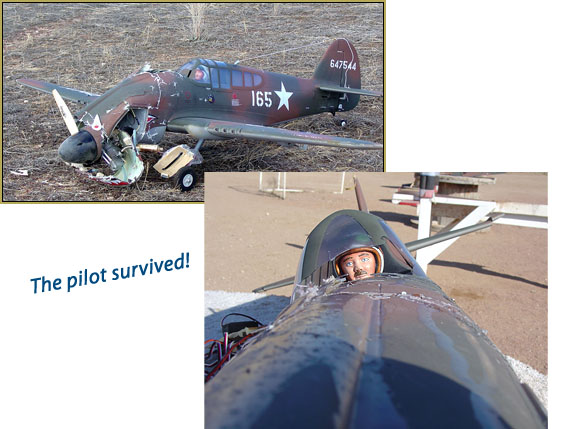 … but the pilot was unharmed… not a scratch!
… Stupidly, I purchased a second China Models P-40 Warhawk… and THIS TIME powered it with a Tower .60 2-stroke… LOTS of power… flew fast… I got in THREE flights before the engine quit at altitude and the model dropped like a rock!… I still have a few pieces of it kicking around here, somewhere! … and… once again… the pilot survived.
So… I bought the Skylark and mounted that Magnum 61 4-stroke on it… and assigned that same pilot to it. That model flew so nice… smooth and reliable… but, with that engine… I wanted MORE… more power and speed…
So I pulled the Magnum motor and installed my trusty OS 46 FX that I had been flying for years… in my original Tower Trainer and in that World Models low-wing sport trainer.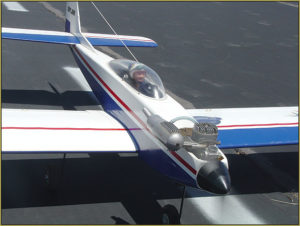 Wow! … What a wonderful combination… the Goldberg Skylark and that 46 FX with an APC 11-6… power, command… strength… that model now flew better than I could fly it!
Sometime in 2012, I got the bright idea to add "flaps" by putting one aileron servo into Channel Six and mixing 1 and 6 as Flaperons. … That didn't really work very well. For one thing, I had the Flaperon control on a rotary knob and so could rotate the knob counterclockwise for negative flaps… both ailerons "up"! So I modified my transmitter with a removable "stop" that did not allow the knob to rotate into that negative-flap position. The remaining servo travel for DOWN flaps was minuscule… almost no flap-action, at all… So, after playing with that idea for a couple of months, I forgot about it.
TRAGEDY in May of 2017… I blame that pilot!

I was out for a leisurely flight with my Skylark when, at high altitude above mid-field, I lost control of the model! It simply seized-up, reminding me of a dead bug, as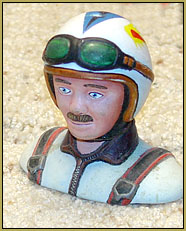 it blasted straight down at full throttle. I yelled-out to let others know that I had lost control! … and the model hit the dirt mid field about 20-yards out on the other side of the runway. Ka-BOOM! … That PILOT figure! … I have only crashed a few planes in my time… and THAT pilot has been in FOUR of them! … and he survived, again!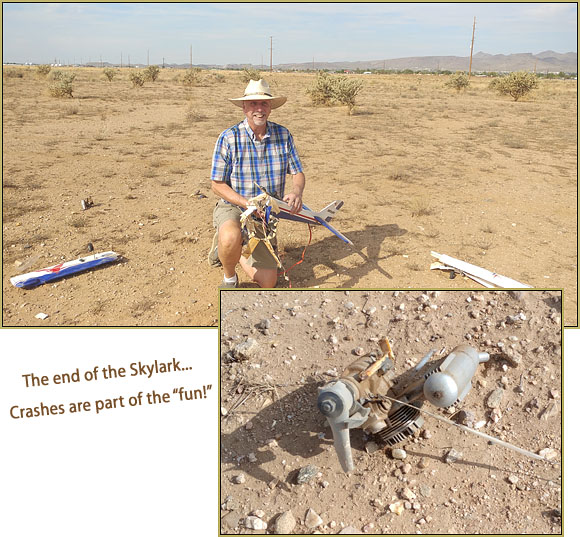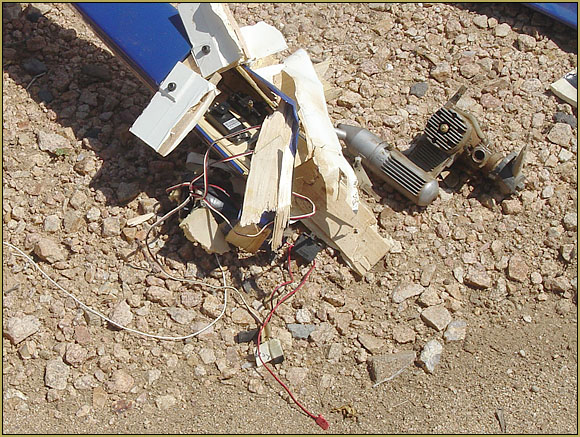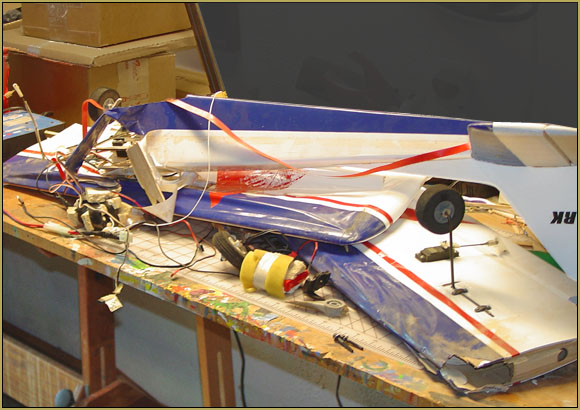 Total Destruction… Awesome!
One wing was bashed and bent… the OTHER was a Mono-Kote sack full of wood chips and shards… just a limp bag of scrap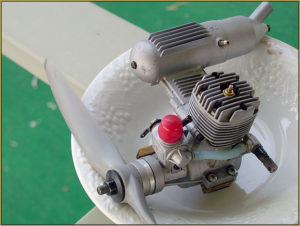 balsa with a long stick poking out that had been the main spar. One of the landing-gear wheel hubs was broken!
The engine survived!
I carefully cleaned the engine with alcohol as I disassembled it… removed the carb, the muffler, the backplate… being careful not to roll the motor until I was sure that all the dirt was out of it. I oiled and reassembled… and ran it on my motor test stand. … it seems to be fine!
The Goldberg Skylark… a Favorite… R.I.P!