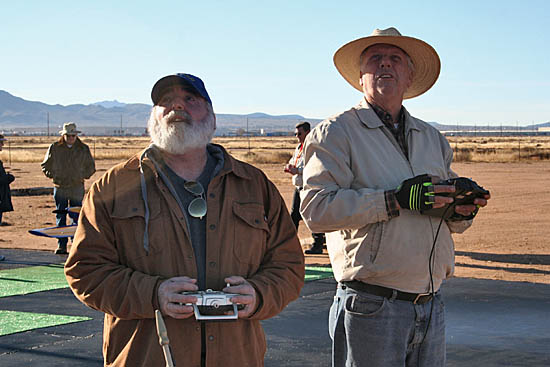 I was at the field on Sunday and offered the Buddy-box Trainer to Tony… and he said "Sure, why not."…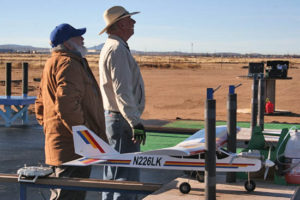 so we connected the buddy-box and tested the throws… all going the proper directions… fired-up the engine… warmed it up… and then took a moment to watch as David's large aircraft tore-up the sky… amazing! …
I got ready for take-off… made a nice smooth lift-off, circled around a bit and then clicked the trainer-switch to give Tony the controls.
Right off, Tony was steady as a rock, flying that thing. He flew the race-track pattern for several laps and then began experimenting. Throttle, turns, descents, (and, yes: ascents)… I let him know that this model sometimes needs a slight kick of rudder to make a smooth turn… "Oh!… that helps!"… and he was into the rudder like "a natural!" We switched the model to "high-rates" and THAT'S when Tony started to enjoy the flight… "Much less sluggish… and now I don't need the rudder!" …  As he buzzed that trainer around the sky, we discussed how you can feel the weight of the model in the way it turns with some inertia… good momentum (which I find missing when I fly a small foamie).
After what must have been too long a time (others were politely awaiting the end of our flight), I took-back control of the plane, tossed it around, a little, and then proceeded to make a rough landing! The engine quit on the first bounce… and three or four bounces, later, the model came to a stop… "way down there"… I had to go get it.
Good flight, Tony… glad you enjoyed it. … I did too.