Fly the Pattern when others are flying at the same time. … The "race-track" pattern is either "to the right" – Counter-clockwise… or it is "to the left" –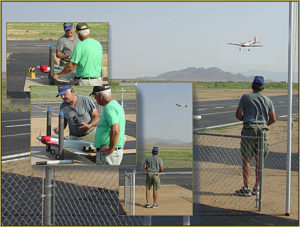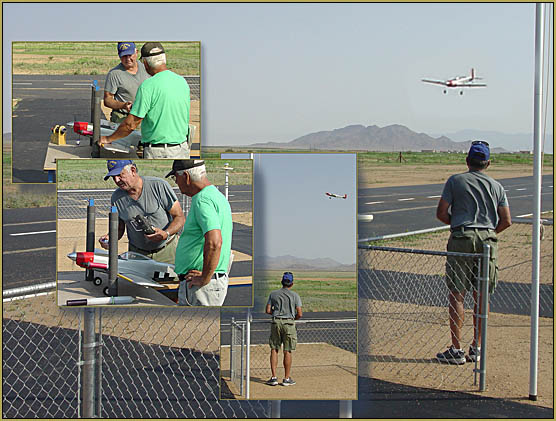 Clockwise. … is usually determined by wind direction… taking off and landing into the wind determines the pattern direction. … If NO WIND (like THAT ever happens in Kingman!) ASK the other flyers "which way is the pattern running?" … if you are the only flyer, then you may do as you wish… left or right.
Call-out your maneuvers: "Coming out!" or "Taking Off!" … "Landing!" … "Touch and Go!" … "I am ON the Field!" … "Going to BUZZ the runway, right to left!" … "Dead Stick!" … "Out of Control – Lost Control!"
Don't just SAY it… Call 'em out LOUDLY so you know ALL pilots heard you. … and Pilots: Give some acknowledgement… "OK" … "Yup!" … "Ugggh-huh"… "I'm staying high!" … Say something to let that pilot know you heard him. … or yell-back "No – Wait – I am still on the runway" … or "No – Wait – I am dead-stick" … "No – Wait – I AM LANDING." "No – Wait – I AM ON THE FIELD."… SAY IT LOUD so you know ALL can hear you.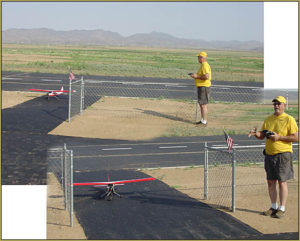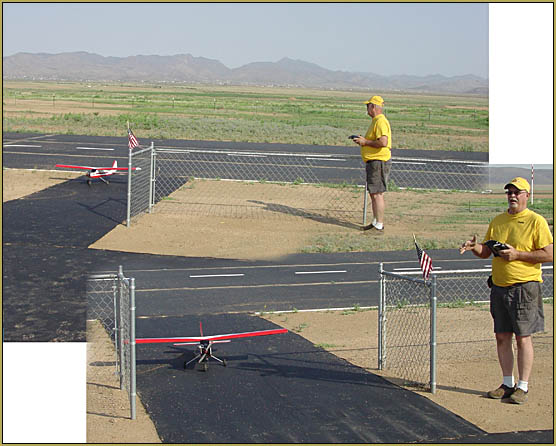 Ask permission to join another flyer. If only one member is flying and you wish to go up, please ask that pilot "Is it OK if I go up with you?"… There are reasons that he may say "No, please wait a couple of minutes, thanks for asking!"; he may be having a hard time controlling his model… he may be making a Maiden Flight and needs an open sky until he gets his model under control… He may prefer to have the sky to himself at that moment… Again… if only one is flying, it's only polite to ask.
If multiple pilots are flying… watch for any "airspace conflict". Take a moment to assess the situation before "coming out!" See if there is a competition going on (like a pylon race) that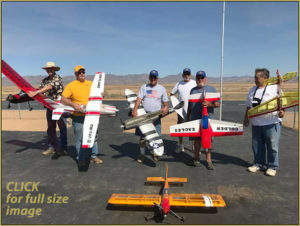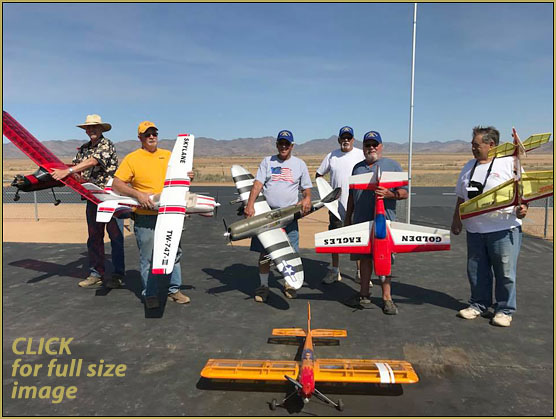 you don't want to pop-up into the middle of. Check out the type of flying taking place and ask yourself if you will feel safe as you fly YOUR model in that mix. … If you are a little uncomfortable with it, then wait a few minutes until conditions seem right… if all the answers are good… then go out and fly!
Smoke, Dirt, and Prop-wash! – As you get your model ready to fly, please be mindful of "the big picture" around you. Be aware that your prop-wash may contain dirt and fumes that may blow onto the bystanders (and by-sitters)… and know that, in fact, they may even be allergic to the exhaust! So, be sure to aim your exhaust and prop-wash away from the bystanders… or move your whole set-up to a different bench so as avoid the situation.
Keep an eye-out for Full-Scale Aircraft! We all need to be listening for the drone of a full-scale aircraft approaching our area. CALL OUT LOUDLY "Full Scale Aircraft approaching from behind us!"… and, if you are not really sure if there will be any airspace conflict or not, CALL IT OUT… much better to be safe than sorry! … and PILOTS: When you HEAR that call: "Full-Scale!", drop your altitude. I know that YOU know that no actual aircraft is really going to fly so low as to run into your model… or DO you? … Always bring your model down to a safe, low altitude so that the pilot of the full-scale will have no reason to consider us to be a safety issue.
Those are all the points I can think of this evening… If you have more concerns, please leave a comment or send me an email with your ideas.
Thank you, all… each and every flyer and spectator. Being polite and being safe… is an unbeatable combination!
See you at the field! – Eric