Golden Eagles club member Bruno Russo operates the Golden Eagles RC Club's Classified ad page.
eMail Bruno [email protected] to place your ads.
This is a new feature… check back often to see what's new!
CLICK On Photos to see larger versions.
The Legal bits: Golden Eagles RC Club makes this page available as a service to its members. The Club makes no warranty, no guarantee regarding any transactions, claims, or the offers submitted to this page. Any transaction is strictly between the Seller and the Buyer.
– – –
Ed Pontillo is looking for a buyer for his ever so slightly used Jumper, Open-TX 16 channel transmitter asking $150. call ED for details:
928-530-0369.
posted 11/22/2020
– – –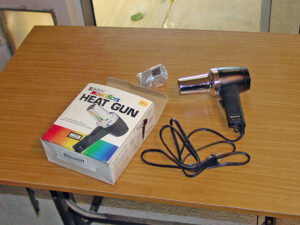 Prez Eric Reinhart has a
Genuine Top Flite MonoKote Heat Gun
for sale.
It's a part of that big lot I purchased last month. It looks new, it works fine… I know it's like at least eight years old.
Asking $15 … email Eric or just "meet me at the field."
– – –
Eric Reinhart is selling a "vintage" but "like new" E-flite ASCENT Electric Glider/Sailplane
Google it for the details… it has a 54″ wingspan. Is older and so has a brushed can motor and an ESC for that brushed motor. Booklet says it runs on 7 or 8 cell NiMh or NiCd batteries (I can see through the canopy that it has batteries installed). This old model has an FM receiver in it. Beautiful hot-pink/orange? transparent covering. No dings, scrapes or scratches anywhere on the model, prop looks perfect… so probably was never flown. It needs YOUR motor, ESC, battery and receiver. It does have two micro servos installed… don't know if they "work" but I bet they are like new.
Price: $40 – Firm … Call or eMail Eric if you'd like to see it at the field.
– – –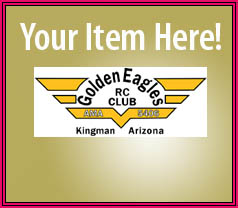 Contact Bruno to get your item listed here!