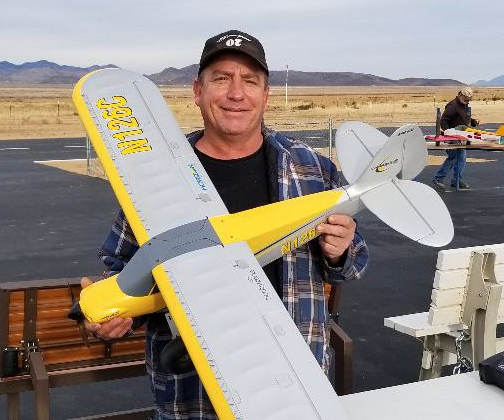 Jack (the younger) Carter… aka Jack-2… made his solo flight on Friday, Dec. 14, 2018. He began learning to fly RC in the late '80's… flew a Goldberg "Senior Falcon" and also a Goldberg "Falcon 56". "crashed that Falcon 56",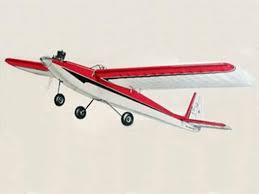 he recalled… and his dad said "crashed that Senior, too!" They let the hobby drop, back then… until now! (Editor's Note: You don't crash a Falcon… that'd be like crashing a Kadet: You'd have to WORK at crashing it!)
Jack-2 started training with Shawn and Jon just a couple of months ago… October. Being a man of few words, I asked him, "did it all come back to you… like never forgetting how to ride a bicycle?"…
"Yes."
I always try to show you an image of that poor abused aircraft… that "Air Warrior"… that was used/abused in the training "process" … but…
Jack-2's Carbon Cub looks none-the-worse for the experience: like "new!"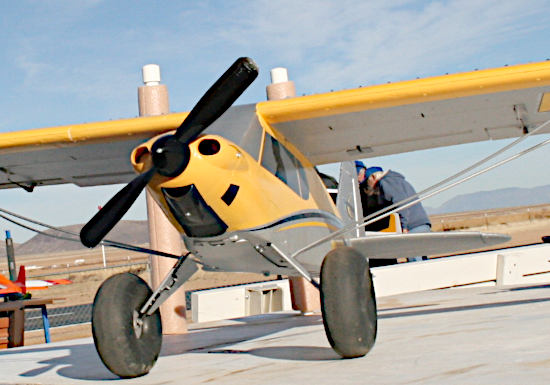 Jack-2 points out "there IS some damage… right back there on the rudder from when the model got blown off the table." … THAT DOESN'T COUNT! He has no "battle damage" from re-learning to fly on his Carbon Cub!
Congrats Jon and Shawn… graduating a new pilot… and
Congratulations, Jack-2!