Thought I would try to contribute my thoughts on taking up the hobby of flying RC (Radio Control) airplanes.
A lot has happened in the last two years for the beginning pilot. When I first started, three years ago, our RC club was divided with about 80% of the flyers using Glow Fuel powered planes. This was OK, but it made the hobby, I think, very expensive to get into… also the transmitters were very expensive. So, for the new pilot to purchase a plane, transmitter, receiver… I was looking at gambling away about $500-$600 bucks and hoping I didn't crack-up the plane on my first flight. Don't get me wrong: my RC club worked with me to learn to fly their own planes before I ever got my first plane.
Anyway about 2 years ago we started to see some new types of planes being offered called SAFE. These planes were much more forgiving to learn to fly. With a little help from your RC club you could be flying on your own in just a few weeks.
Also the good news was you could purchase a new Electric powered plane with a transmitter, ready to fly, for about $300. Now, a year later, there is a new trainer plane from Hobby Zone called "Aero Scout" that is ready to fly for only $200 with free shipping! I have been flying this plane for a few weeks and I have to say that "This is a great Plane to fly!" and it has all the things a new pilot will love.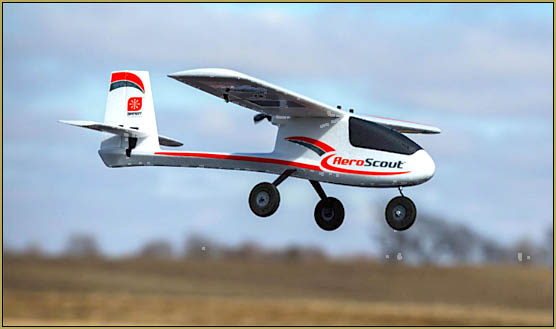 The Areo Scout is a great size; should fit into most small cars. It is, I think, 1.1 meter wingspan. It has an advanced receiver called a Spectrum AS3X Safe Select… and a 5 channel DXE Sports Transmitter… and includes one smart battery with a charger.
This is a great little plane and it has all the good things a beginner should be looking for in his first plane.
And here are some of the reasons it's a great deal. First it's about $300 bucks cheaper then such a plane would have been only two years ago. The plane is easy to assemble: takes only about 10 minutes. It has three thumb screws to hold-on the main wing. The elevator slides together and the tri-cycle gear snaps on, and there is a set screw to install the front landing gear. It uses very large foamy wheels: great for take off and landing on grass, dirt, or any surface. The 2200 Mah battery loads from the front. The motor is a pusher and is located behind the main wing. The plane comes pre-bound to a Spectrum DXE Sport radio. Easy to use – easy to fly. It took me 9 min to build this plane. At the time of writing I feel this is the best plane with the most bang for the buck to get a new pilot into this hobby.
There are other planes that are equipped with the S.A.F.E system, as well, but all fall into the $300 range. Any plane equipped with this system is a great choice for the first time flyer. If you have any questions about getting started with flying RC, please contact one of our officers. And… I hope to see you soon flying with the Golden Eagles!
You can email me at [email protected] . The Kingman Golden Eagles RC Club also has a Facebook group where you can check-out whats been going on at our new state-of-the-art RC airfield. Just search on Facebook groups for Golden Eagle RC club.
Rick Atkeson