In the middle (I hope it's the middle) of these Coronavirus self-quarantine days, some of us are still flying and enjoying our hobby. I try to fly on my "designated" days of Wednesday, Saturday and Sunday. I see Pauly out there… and David Duke, the two Jack Carters, Gerry Peters, Gar, Jon Wilson, Rick, Enrique, Kathy and Lee, Worth, Ben… a fun group! … And so far, we haven't tried to breath on each other or swap fluids!
We are headed into a time of year that's just beautiful. Spring has sprung and the flowers are blooming all across the desert floor. The weather is supposed to get warm and breezie for the weekend before Monday brings the next chance of sprinkles.
A couple of weeks ago, in honor of the healthy weeds at the field, the club purchased a 40-gallon Powered Weed Sprayer from Tractor Supply that David Duke has mounted to a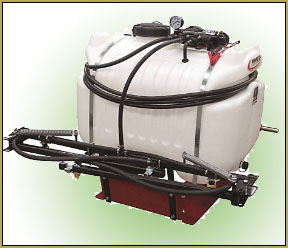 trailer-hitch platform on the back of his pick-up truck. Out of his pocket he has purchased four or five gallons of weed-poison for use in that sprayer. He drove out there, with the new sprayer system, and spent several hours driving the entire field as he applied a full tank onto the weeds. After a week, we can see that it was not effective. So he has changed brands of weed-killer and, after we mow those weeds, David will be out there to make another pass at the weeds.
David has also reworked the Large-Scale pit area by moving the old Astro-turf carpet out to the left of the existing pit area and he added more carpet and some ground-mounted model restraining posts… all out of his own pocket. So much enthusiasm for our facility! Thank you, David, for all you give, for all you do!
Jon Wilson has said he'd mow the weeds with that ride-on mower he purchased last year if we can put it onto a trailer and get it down to the field. The club will buy the fuel! I don't know if that's happening, but we have several interested club members focused on the weeds, so I am sure we WILL get the weeds mowed.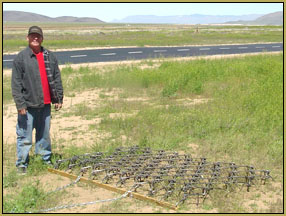 Jack Carter, Jr. (Jack-2) bought a  $280 iron "drag" from True-Value and donated it to the Club. Once the weeds dry-out, we can use that thing to manicure the entire property! He spent some time dragging it around through the high weeds… with little effect. Everything is lush, green and too healthy at the moment. Thank you, Jack! … Much appreciated! We will get a lot of use out of that drag.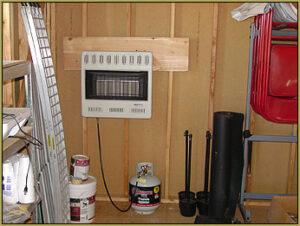 Last summer, Gar Bradley donated a gas-fired wall heater to the club for use in our clubhouse. … We let is sit, unused, on a table all through the winter. This last Saturday, Gar showed-up with a bottle of propane and a gas pressure regulator valve/hose that he had purchased for this project… and a plank of wood, a drill, and screws to mount that heater onto the wall in the clubhouse. He figures he spent about $70 on that hardware… plus the value of that heater. He mounted that heater to the plank and I helped him to hold it up as he screwed that plank to the wall. It's a done deal. … our clubhouse now has "heat" and fuel for that heat. Way-to-go, Gar! Thank you!
The club is fixing to purchase the third Sun Shade structure… to match the other two that we have installed, out there. Those things'd cost over a thousand dollars plus tax… but MT Bob is using his Lowe's Military Discount to purchase the unit for a bit less than the thousand bucks, out the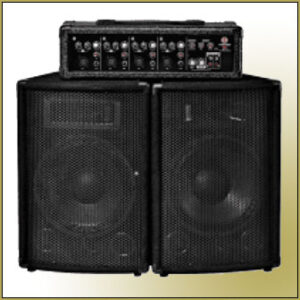 door. The Club will reimburse Bob, 100% for his purchase.
A fat month ago, Harold Marshall spotted a PA system for sale at a great price on Craig's List. We have been wanting a PA system that would enhance the ambiance of our Club Events. I got in touch with the seller, drove the 150 miles round-trip in my old Blazer to Lake Havasu City, and paid the seller the $70 cash he wanted for that system. It's a nice unit! …a bit "older" but fully functional and very LOUD! … I've decided to pass on reimbursement in favor of considering it to be a hundred-dollar donation against the club's purchase of that new sun shade.
Those are just a few…
Those are just a few of the MANY donations by so many of our members. MT Bob doesn't ask for the credit he deserves for managing our Porta-potty installation. He keeps it clean and functional and he organizes the regular professional service it requires. Bob also is our liaison with the AMA to be sure that all of our members hold current AMA cards. Pauly and Harold have been fiddling with our PA system. Moe Ashley brought in a carton of old model airplane plans he picked-up from Duke Crow's estate. A handful of us, out there at the field, are always ready to greet the visitors and give newbies a chance to fly. I have been working with several new flyers… as have Rick and Richy. And when Shawn is visiting from his winter home in Quartzite, he adds a high-energy positive glow that is totally contagious!
So many little things happen each week; things we don't notice… from a quick dig with a hula-hoe, a tug on a weed, and maybe a little trash pick-up… to helping the newbies set-up their airplanes… Everyone out there is helping to make the Golden Eagles RC Club a wonderful group to associate with… a wonderful place to visit.
Thank you, everyone… Thanks for all!
— Eric