Let's build a shed for the mower…
A couple of months ago the Golden Eagles RC Club purchased a ride-on mower tractor… and it has been sitting out in the sun and wind. MT Bob Kuntz and Gar Bradley hit upon the idea to build a "lean-to" onto the north end of the existing Clubhouse barn. They would use the old 4×4 Sky-Sail shade posts as the basis of the lean-to…. a wonderful idea!
Bob and Gar started swapping ideas about the design… and they figured they'd "just do it". Well… Eric and Shawn stepped-in with the idea that, "You know? That structure might be built large enough to ALSO store the Promo-Trailer that Shawn custom-built for us last year."… Whoa! That meant a project to be at least TWICE the size of what Bob and Gar had been planning. …
MT Bob and Gar… neither one of them said "No."
… or… maybe they DID, at first… but with Shawn giving them an ear-full and Eric nudging, a little… well, maybe they didn't say "Yes."… but they DID incorporate the trailer storage into their plan.
The "Taj Mahal"…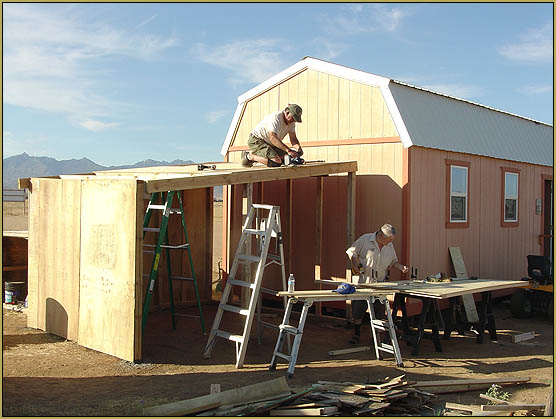 The new "build" is a whopper! … about 9×12 feet in floor-space, two swinging doors, and tall enough to hold Shawn's trailer. … It is built as a free-standing structure, near to, but not attached to, the original clubhouse structure.
Jack Carter Jr. has an "in" with True-Value…
Jack works at Kingman True-Value Home Center and was able to buy plywood and lumber remnants for our project at a great price… he also has a handle on some asphalt roofing shingles… scraps and broken packs. Without Jack's help, this project would have cost a fortune! What?… not all the shingles are the same color? Grrrrrrrrreat!… so glad to get 'em.
MT Bob and Gar… Thank you!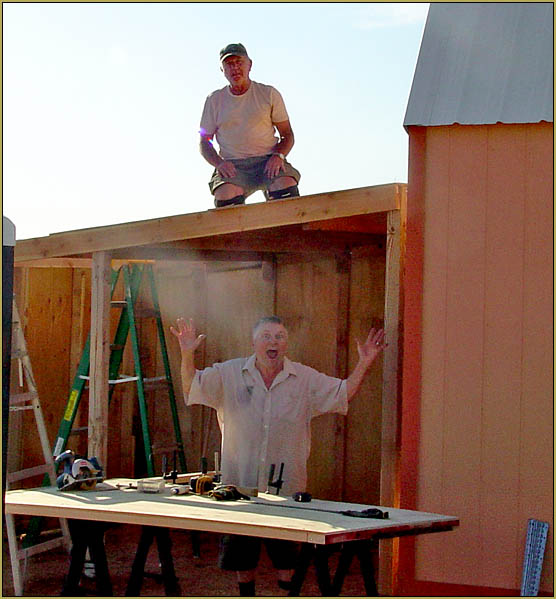 Those guys have put together the entire structure from scratch… digging the post-holes for the concrete "foundation", scavenging the materials… and pounding it all together in the summertime heat and wind. Gar has been purchasing whatever hardware he needed, including stainless-steel piano-hinges for the gates, out of his own generosity… his own pockets. That's awesome, man… Thank you!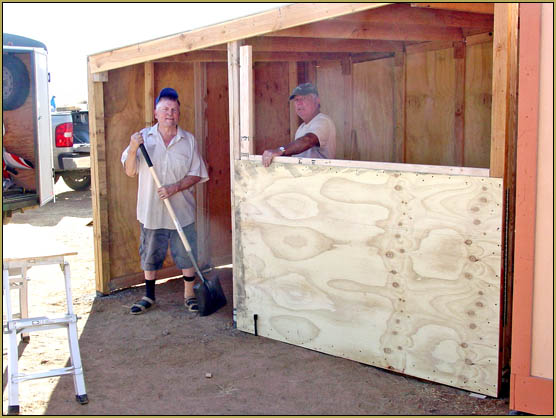 They had extra help one day… but I kept it to myself…

— Eric