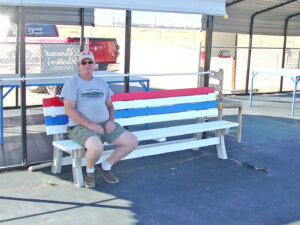 Pauly … "Crazy Pauly" delivered the two benches that he and Dan had put together. Shawn had donated the two "Bench Kits"… MT Bob and Pauly used the club debit-card to purchase the wood and paint… and Pauly and Dan put the benches together.
Pauly designated the ONE bench as the "Vista Grande", being red-white-blue… and the other: "Evolution" … too funny! Thanks, Pauly… Thank you, Dan!
When the wind settles-down, I look forward to hearing the peanut-gallery comments coming from those old guys on the bench! and… with all of our benches, we can support PLENTY of peanuts!