We had a big turnout for our 4th of July event… "big" considering we are in the midst of the "Covid" era… The Fourth of July is the Nation's (and Eric's) Birthday… so we had a decorated birthday cake, a Bavarian creme cake, a couple of kinds of ice cream goodies… some "Mini Pretzel Dogs" and an apple pie… and someone even brought a box of doughnuts. … … when it came time to clean-up, I noticed that the Doughnuts had been the biggest Hit!
There was Eric's CD boombox blaring-out John Phillip Sousa brass band marches… the flag was flying… the breeze was so gentle as to be almost non-existent (at least at the beginning of the day), simply a beautiful day for flying… and the July Heat was in command.
Great to see so many members out there… some, who I thought would be, were not…. but then I saw many of the guys who rarely come out to fly at the same times that I do… Ken Gattorna and Tim Carlson… Carry Buschbaum and our newest member Ed Pontillo… a fun bunch, all adding their comments to the Peanut Gallery.
One of the goals of the day was to get a picture of the club's Warbirds… and we got the whole crew to stand behind those models… nineteen of us!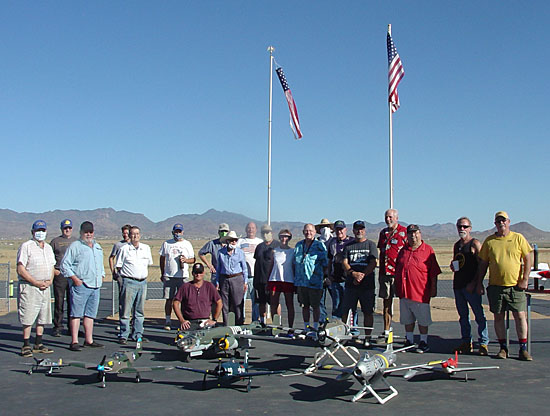 That's David Duke with his HUGE B-25 bomber… and there in the lower left corner of the picture is Tim's tiny scratch-built Focke-Wulf Fw 190. I was hoping that Jack-2 would have been there with his tiny Mig-15 edf; it would have been a nice contrast to Gar's huge P-47 Thunderbolt in the back row, there.
We had planned to take the Warbirds picture @ 8AM… but one of our members had to leave early… so we did "the shoot" early… and, then… THEN Bob Maher showed-up with his nice Spitfire model… so… here you go, Bob… NICE photo!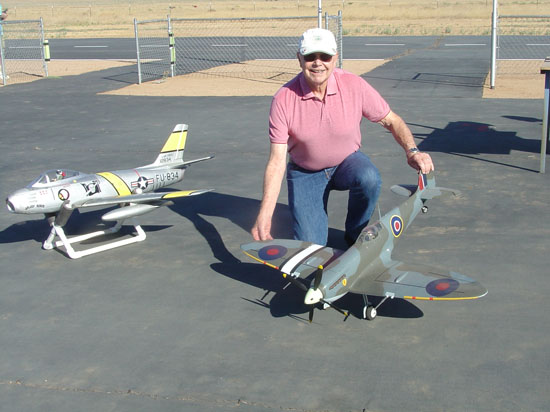 "A good time was had by all…" … Thank you everybody for the fun event.
Shawn's Promo-trailer… FIT into the "garage"… the "Taj Mahal".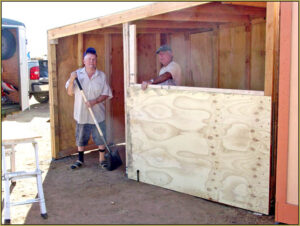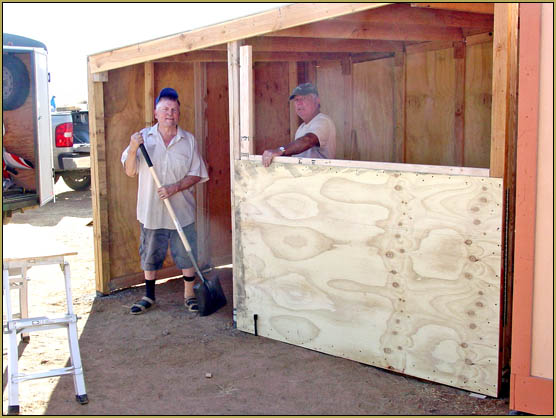 The last gasp of the day was to bring in Shawn's trailer and put it into the newly built "garage". … and… it fit in there just fine with only an inch, or two to spare. … I did the driving to recover the trailer from it's street-side location, and then Pauly, David Schoeneman and myself maneuvered that trailer into the Taj Mahal. At first it did NOT fit, but then we realized that there was an extra two-by-four piece of lumber leaning against the back wall. Once we removed that stick, we were able to shut the door, parking that trailer in there, safe and sound. A solid end to a pretty nice day!
— Eric